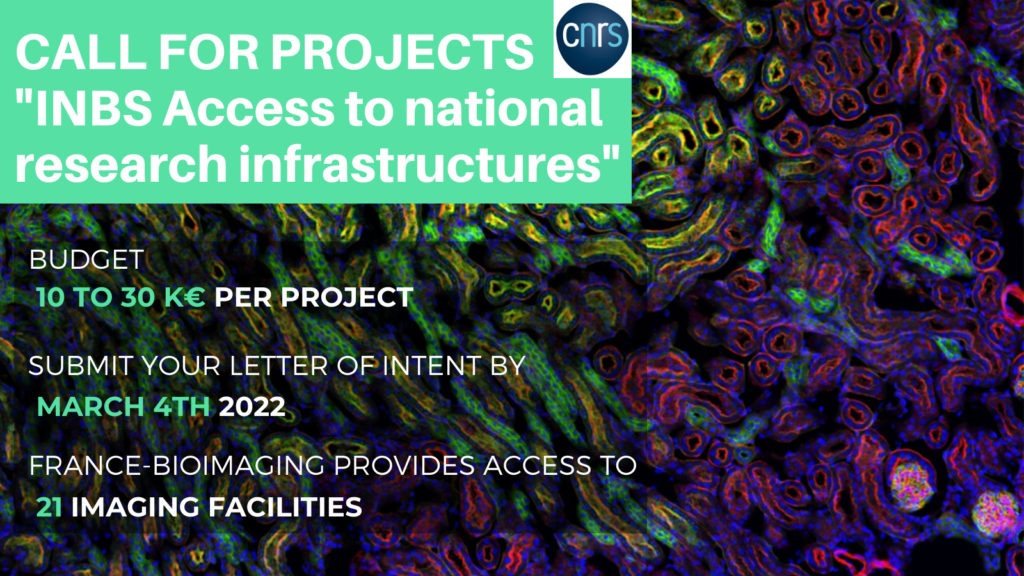 The Institut des Sciences Biologiques du CNRS launched a call for projects to fund full access to the national infrastructures in health and biology.
Deadline to apply: March 4th 2022
This call aims to encourage new teams to use the services offered by Research Infrastructures to help their research project.
France-BioImaging core facilities are eligible to this call:
For access to technologies and related expertise
For access to expertise in data analysis
The funding for each project will be in the range of 10 to 30 K€.
Project eligibility and selection criteria:
The scientific leader of the project should be in a unit attached to the INSB.
Access to the infrastructure must be fully implemented before 31/12/2022 (deadline for the use of funds)
The scientific project must be a project in the process of being finalized.
Access to infrastructure must unlock or accelerate the project. The start of a scientific project is not eligible for this call.
Find the details of the call on the INSB website: https://www.insb.cnrs.fr/fr/call-projects-inbs-access-national-research-infrastructures
Feel free to contact us for any further information you may need:  contact@france-bioimaging.org