Currently available funding for imaging facilities access:
ISIDORe: Funding for research projects related to infectious diseases
The ISIDORe Calls for user projects is open and accepting applications! Researchers with an interest in the following pathogens can apply for funding for imaging services and expertise from our facilities:
Respiratory Pathogens: Zoonotic betaCoronaviruses, Influenza A, Y. pestis, M. tuberculosis / bovis, C. burnetii.
Vector-borne pathogens and their vectors: Rift valley fever virus, Zika virus, Chikungunya virus, West Nile virus, Dengue virus, Japanese encephalitis virus, Yellow fever virus, Tick-borne encephalitis virus, Plasmodium, B. burgdorferi.
Other Pathogens with epidemic potential: Pathogen X, Orthopoxviruses, Non polio enteroviruses, Polio enteroviruses.
Within this project, Euro-BioImaging coordinates and provides FREE ACCESS to a portfolio of cutting-edge Biological and Biomedical imaging services. Since France-BioImaging facilities are part of Euro-BioImaging, our transnational users are eligible for these funding resources.
If you are currently working or are planning to work on one of these infectious diseases related research topics in the coming months, we strongly encourage you to get in touch with us as soon as possible, so that we can discuss your project and help you applying for support from this fund!
Matching your pathogens-related projects with imaging expertise
The ISIDORe Calls support transnational user access projects. The Euro-BioImaging Project Managers – specialized in both biological and biomedical imaging technologies – are there to advise you if you wish to visit France-BioImaging facilities. They are happy to exchange with you by email or phone to support you in the ISIDORe application process and in choosing the related imaging technologies and expertise from a facility facilitating your research.
Researcher-focused funding opportunity
To apply for transnational FREE ACCESS, please follow the Guidelines on the Euro-BioImaging website.
To get in touch with Euro-BioImaging Scientific Project managers, info@eurobioimaging.eu
For more information on the project and to apply, visit the ISIDORe website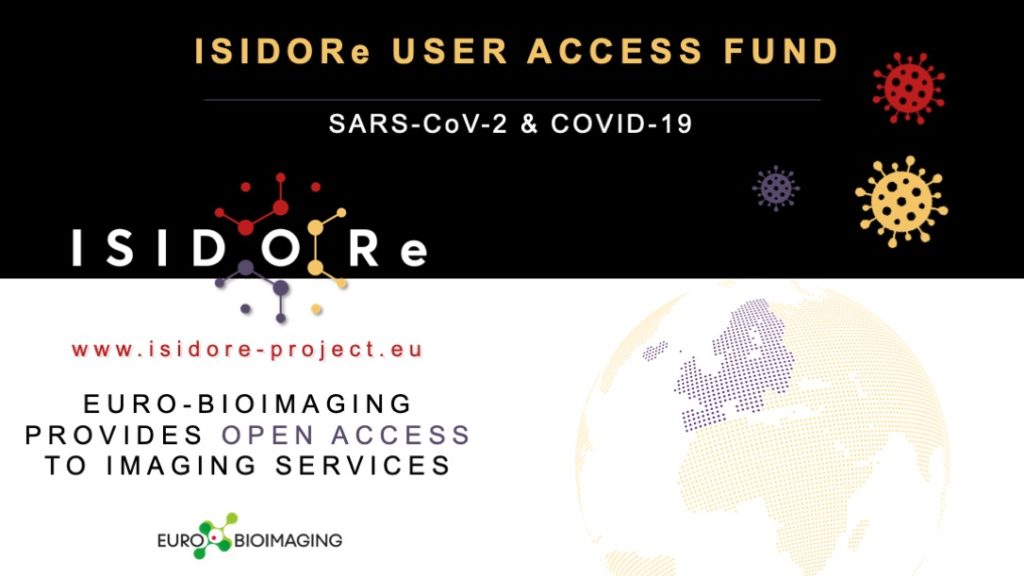 France-BioImaging Access Funding
This fund is available for FBI external users or users from one FBI regional Node who want to access an equipment available in another FBI regional node (national and international) registered through Euro-BioImaging portal. They will receive a waiver for the costs of instrument access (up to 750€ per week per project) on FBI facilities. Eligible costs: use of the instrument fees, user training if needed, data processing and analysis, and consumables costs for sample preparation.
More information: https://france-bioimaging.org/access/
Users can indicate France-BioImaging imaging facilities as service providers when requesting grants and include the related budget in their proposals