BioImage Informatics 2021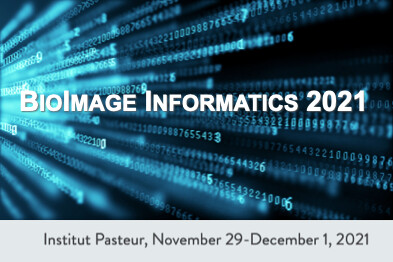 BioImage Informatics 2021 is an annual meeting in the processing, analysis, and extraction of information and knowledge from biological images. This conference will be held in virtual from November 29 to December 1, 2021, and is organised by Jean-Christophe Olivo-Marin (Institut Pasteur), Charles Kervrann (Inria), Jean Salamero (Institut Curie) and Jean-Yves Tinevez (Institut Pasteur).
This year's edition of the BioImage Informatics conference will happen fully online, and rely on a very nice website built specially for the conference. There will be a dedicated space for poster presentations where presenters will be able to interact with the audience, leave a video or materials when they are not here, etc…
There will be a space for job fair and general announcements as well.
BioImage Informatics 2021 meeting will include, but not be limited to, the following topics:
Advanced analytical solutions for bioimage processing and analysis
Statistical spatial analysis of cellular or molecular distributions
Applications of machine and deep learning to analysis of cellular structure and related functions
Quantification of dynamic images and transport phenomena Automation of data acquisition and analysis
Dynamic cell imaging and biological processes
Reconstruction and analysis of structure and function of biological networks
Registration, correlation and fusion of multimodality data
BioImage Informatics will feature a variety of types of presentations: invited talks (45'), selected talks from abstracts (20') and posters.
Invited Speakers
Yonina Eldar, Weissmann Institute, Israel
Michael Liebling, EPFL/IDIAP, Switzerland
Emma Lundberg, KTH Royal Institute of Technology, Sweden
Jong Chul Ye, KAIST, Korea
Abstract submission and Registration for BioImage Informatics 2021 are now open!
All abstracts for selected talk and poster consideration must be submitted by October 15, 2021 and should not exceed 350 words (excluding authors and affiliations).
You may submit as many abstracts as you like.
At least one author of each paper or poster must register and attend the conference in order to be listed in the conference programme as a presenter. Authors will have the opportunity to edit an originally-submitted abstract before it is published in conference proceedings.
Only accepted abstracts and fully paid registration will be printed in the PDF programme book.
More details can be found at Home – BioImage Informatics 2021
Directions