FBI Image Contest 2017 Results
Dear colleagues, dear FBI community,
The National Coordination and Industry Board are proud to announce that the winners of the FBI Image Contest 2017 are:
1. Marie Irondelle – PiCT Institut Curie with "Biology's Little Venice"

La petite Venise de la biologie © Carine Rossé, Emilie Lagoutte & Marie Irondelle – Institut Curie
Confocal microscopy
Transparisation par U DISCO d'une glande mammaire murine régénérée à partir d'un transplant d'organoides mammaire murin.
2. Orestis Faklaris – Institut Jacques Monod – ImagoSeine with "The Tree of Life"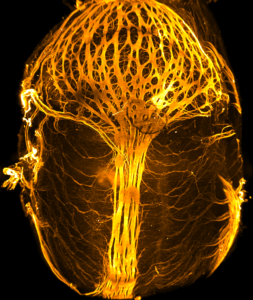 The Tree of Life © Orestis Faklaris, Nicolas Chevalier – Institut Jacques Monod
Ultramicroscope – light sheet microscopy
3D z-stack projection of transparised chicken embryo stomach. Label betaIII-tubulin – Alexa488.
3. Clémence Simon – UMR 8576 CNRS/Université Lille 1 with "When Chemistry Transcends Lignin"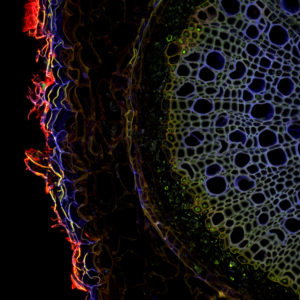 Quand la chimie transcende la lignine ! 1 © Clémence Simon, Unité de Glycobiologie Structurale et Fonctionnelle, UMR8576
Microscopie confocale, MIP, BLISS
Application de la stratégie de double réaction chimique BLISS aux unités p-hydroxyphényle et guaïaicyle de la lignine sur coupe de racine de lin. Observation du double marquage (+ autofluorescence) par microscopie confocale et représentation par projection maximale d'intensité. Taille de l'image : 510 x 510 microns.
FBI Industry Committee Special Prize: Nathanaël Prunet – California Institute of Technology with "Arabidopsis Inflorescence"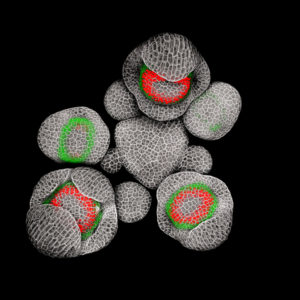 Arabidopsis inflorescence 1 © Nathanaël Prunet, Caltech, Meyerowitz lab
Confocal microscopy
This is a live Arabidopsis inflorescence with young flower buds developing at the periphery. Cell walls have been stained with propidium iodide (grey). Fluorescent reporters were used to monitor the expression of the APETALA3 (AP3, green) and SUPERMAN (SUP, red) genes. AP3 is required for the development of stamens (the male organs), while SUP establishes the boundary between the male and female part of the flower. This picture was acquired using live confocal imaging, which allows us to describe the expression of several genes in both space and time, in the same live biological samples, with a precise cellular resolution. It finally allows us to understand a question that has been elusive for 25 years: how the male/female boundary is established during the formation of the flower. My research aims at understanding how flower buds are patterned as they form.
All Entries:
Thank you to all the participants for their great contributions:
Dario Donnarumma, Laboratoire Charles Coulomb UMR 5221 CNRS-UM
Filippo Piccinini, IRST
Aude Nommick, IBDM – Marseille University
Sébastien Marais, Bordeaux Imaging Center
Marie Held, Biochemistry, University of Liverpool, Levy Lab
Patrice Mascalchi, Bordeaux Imaging Center and Frédéric Saltel, INSERM U-1053, University of Bordeaux
Corrado Viotti, Institut de Biologie Moléculaire des Plantes, CNRS, Strasbourg – P. Genschik Lab
Marcello Delfini & Mathieu Fallet, CIML CNRS-INSERM-AMU
 Jonathan Daniel, Institut des Sciences Moléculaires
Laurence Dubreil, APEX-UMR703 PAnTher INRA Oniris
Pierre-Olivier Strale, Interdisciplinary Institute for Neuroscience
Clémence Simon, Unité de Glycobiologie Structurale et Fonctionnelle, UMR8576
Jérémie Teillon, INSERM U1034
Morgane Rabineau, Inserm
Eve Gazave & Nicolas Rabet, Institut Jacques Monod-CNRS
Nathanaël Prunet, Caltech, Meyerowitz lab
Françoise Geffroy, CEA-DRF-NeuroSpin-UNIRS, Midas Team
Valeria Davi, ImagoSeine – Institut Jacques Monod – CNRS
Anna Smirnova, University of Strasbourg – GMGM
Debora Olivier, Institut Pasteur
Orestis Faklaris, Institut Jacques Monod
Xavier Baudin, Institut Jacques Monod
Mathieu P. Dailly, CMAS
Lucie Sengmanivong, UMR 144, Institut Curie, Paris
Marie Irondelle, Institut Curie
Thank you also to the core facilities staff and heads for having forwarded the contest to their users and for providing them state of the art bioimaging.
The National Coordination