FBI Annual Meeting 2022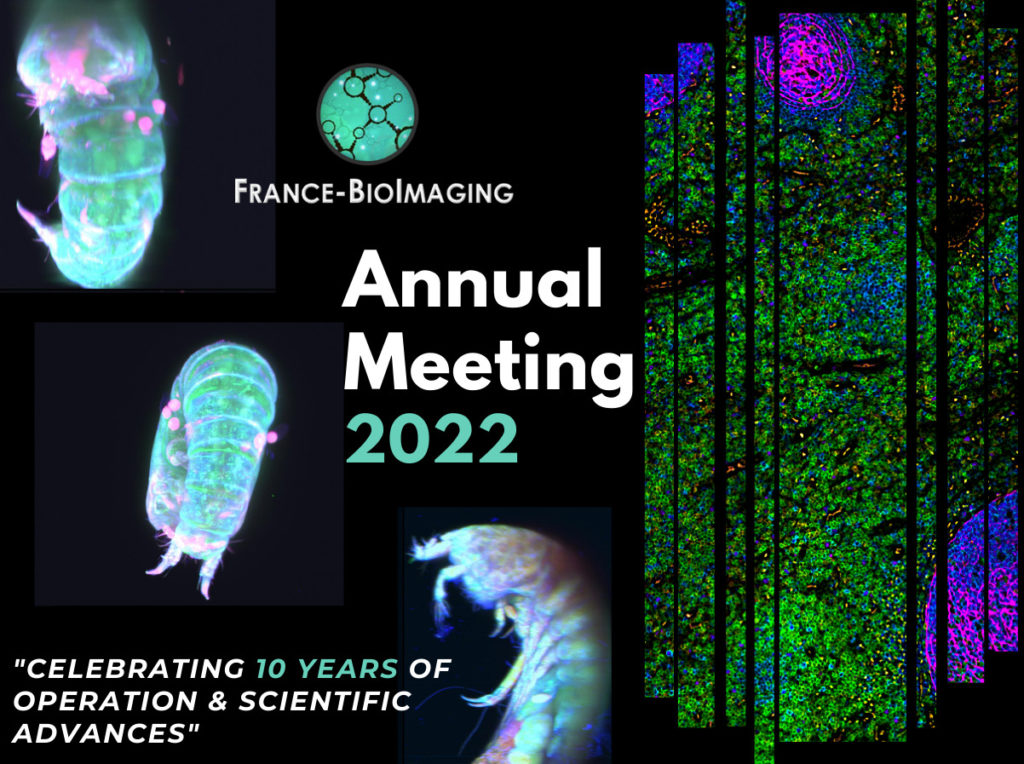 On December 13th and 14th 2022, we will have the pleasure to invite you to our Annual Meeting, to be hosted by FBI Bretagne-Loire Node at the Health Research Institute of the University of Nantes (Nantes, France).
2022 is an important landmark for France-BioImaging and its community, as the infrastructure is celebrating 10 years of operation and scientific advances. We will be happy to celebrate this milestone with all the members of the bioimaging community (within and outside the France-BioImaging community).
The Annual meeting will highlight France-BioImaging's development as a research infrastructure and its node community accomplishments during these last 10 years, and the role they play in boosting innovation in bioimaging. Imaging scientists and users from the infrastructure's nodes will present their key projects and demonstrate how they have profited from France-BioImaging and its community.
We look forward to meeting you there!
Gallery
Videos
Programme
Registration
Deadline to register: 04/12/2022 at 23:59
This form is currently closed for submissions.
Poster
INFOS PRATIQUES:
Adresse: Bâtiment IRS-UN 8 quai Moncousu 44000 Nantes
Plan d'accès https://sfrsante.univ-nantes.fr/medias/fichier/plan-acces-irs-un-1_1561112224023-pdf?ID_FICHE=1562669&INLINE=FALSE
(arrivée directement à l'accueil, toutes les salles sont au rez de chaussé et seront fléchées)
Comment venir?
Arrêt de tram le plus proche: ligne 2 ou 3 du tramway Aimé Delrue
En train:
Gare de Nantes à 20 minutes à Pied (préférez la sortie sud pour venir à pied). En bus ou tram compter 15 minutes.
Ligne de bus accessibles depuis arrêt sortie gare Sud C2, C3, 54 arrêt Hotel Dieu
Ligne de tram depuis la sortie Gare Nord : prendre la ligne 1 direction François Mitterand/Jamet et descendre à Commerce, continuer à pied (10 minutes de marche environ)
En avion:
Navette aéroport Navette aéroport Nantes Atlantique : horaires, tarif
Le départ et l'arrêt se font à cause de travaux de Hotel Dieu ( plus proche de l'IRS) et non pas Commerce.
Taxis Nantais:
02 40 69 22 22 http://www.taxis-nantes.com/
02 40 85 40 85. https://heptaxis.com/
VTCs:
LocalCab 09 80 66 62 82 TAXI / VTC – Réservez votre Chauffeur au Meilleur Prix ! (localcab.fr)
Quelques Hôtels conseillés :
L'Hôtel L'HÔTEL NANTES – Votre Boutique Hôtel idéalement placé centre-gare (nanteshotel.com) (135 à 195 euros la nuit avec petit déjeuner)
Hôtel Amiral Hotel Nantes centre-ville – Hotel 3 étoiles – Hôtel Amiral | Nantes (hotel-nantes.fr) (128 à 150 euros avec petit déjeuner)
Hotel ibis Nantes Centre Gare Sud ibis Nantes Centre Gare Sud – Hôtel 3 étoiles à Nantes – ALL (accor.com) (110 à 130 euros) ibis Styles Nantes Centre Place Royale
Hôtel ibis Styles Nantes Centre Place Royale Hôtel à Nantes – ibis Styles Nantes Centre Place Royale – ALL (accor.com) (85 à 95 euros)
Prise en charge des missions:
Se rapprocher de votre noeud FBI (fonds mission), sauf pour les intervenants qui seront directement contactés pour la prise en charge de leur missions.
Directions