Migrating GnRH neurons must communicate to ensure species persistence
The ability to communicate effectively with each other is one of the strongest predictors for our chances to get ahead in life. In their latest publication in Science Advances, scientists and engineers from IGF-Montpellier (CNRS, INSERM, Univ. Montpellier), IPAM platform (BioCampus Montpellier, France-Bioimaging Montpellier Node) and ARO-Israel demonstrated that this also holds true for GnRH neurons.
In humans and all vertebrates, species survival depends on a critical step during embryonic development: the migration of a small subset of GnRH neurons (about 2,000 in humans and less than 100 in fish) from the nose to the brain where they join the hypothalamus to control reproduction. Their latest results unveiled that GnRH neurons make a pause at the nose-brain frontier where they function as an inter-hemispheric network that is isolated from the rest of the brain. Only neurons that integrate into the network and are able to communicate with their neighbors will finally cross the barrier and make their way into the brain, towards their hypothalamic destination.
In other words, these GnRH neurons, that are critical for species persistence, face the same challenges like other immigrants: they must learn to communicate effectively if they are to integrate into their new world.
In this study, in vivo 2-photon microscopy was a key tool for:
Long term imaging with minimal bleaching and phototoxicity
Upright configuration enabling dorsal imaging of the fish in its natural position
Long-distance water-immersion objectives allowing imaging of deep tissue structures without sacrificing image quality
Fast calcium imaging
Imaging of red GECI using the higher wavelengths
Precise cell ablation
Photoactivation of ChR2 while monitoring Ca in the red channel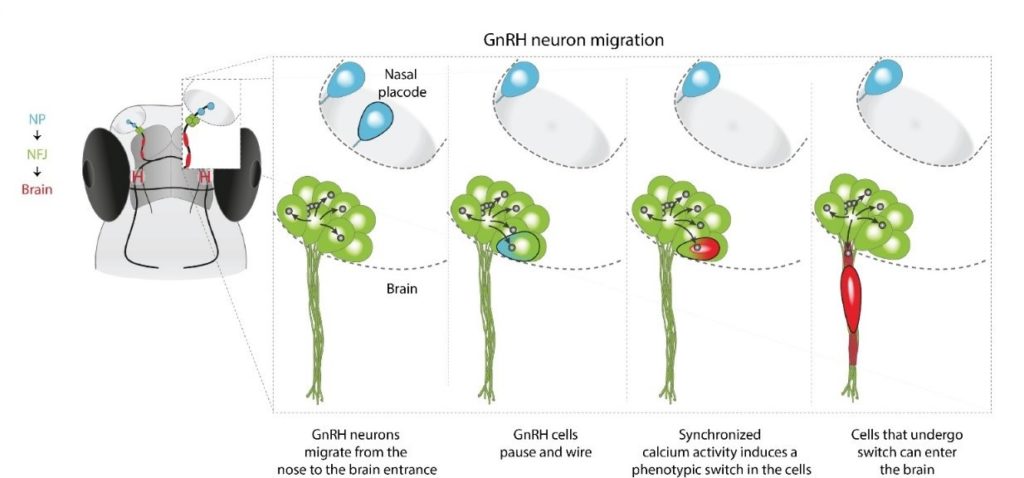 M. Golan, J. Boulanger-Weill, A. Pinot, P. Fontanaud, A. Faucherre, D. S. Gajbhiye, L. Hollander-Cohen, T. Fiordelisio-Coll, A. O. Martin, P. Mollard, Synaptic communication mediates the assembly of a self-organizing circuit that controls reproduction. Sci. Adv. 7, eabc8475 (2021). doi: 10.1126/sciadv.abc8475
Contact: Patrice Mollard, IGF, Montpellier patrice.mollard@igf.cnrs.fr